On an otherwise peaceful morning on January 13th, Hawaiian residents and visitors were horrified to receive a warning on their mobile phones instructing them to "seek immediate shelter" due to an imminent missile attack.
The message ended with the simple, yet gut-wrenching: "This is not a drill."
Vacationing NPR reporter Tamara Keith was on Oahu when the warning sounded. As she commented on NPR News, the warning was especially frightening, as an attack "is plausible." With heightened tensions between thed United States and North Korea, in particular, Hawaiian residents—and Americans in general—fear for their security.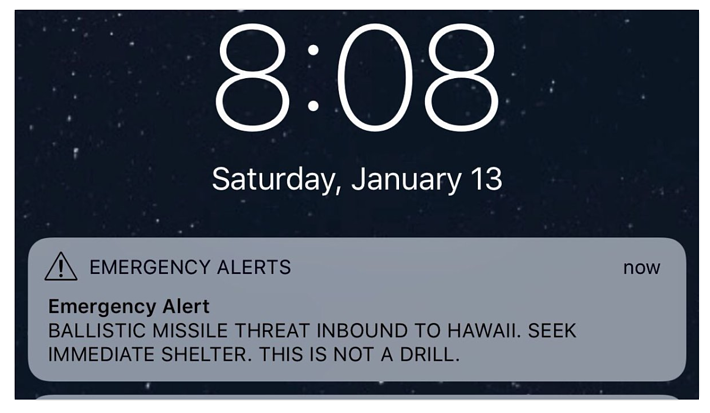 Hawaiian state officials now know human error caused the alert to go out. It's disheartening to imagine just how many terror-stricken conversations happened in the 38 minutes between the warning and the retraction. The Federal Communications Commission (FCC) will investigate how the error occurred—and how to prevent another such error in the future.
Other security vulnerabilities exist every day, in every arena of our lives, yet they don't receive the same attention. While a hacker who steals vital personal data isn't sending a missile to our homes, he can wreak havoc in our lives.
And when those hackers attack military databases, the results can be catastrophic. Even with the most innovative firewalls in place, hackers continue to pillage servers housing the most sensitive data on the planet, whether at a retailer like Target, an Internet service company like Yahoo!, or the US military.
We all need a deeper appreciation of the potential for attack, whether via missile or virus. Hawaiian state officials have rightly accepted responsibility and will work diligently to prevent future errors. At HOPZERO, I've dedicated my life to developing the simple, unique, and elegant technology and approach that will keep our most sensitive data safe from attack.
To all the people terrified by a mistaken ballistic missile alert, my heart goes out to you. We live in a dangerous world, and at HOPZERO, we work every single day to make it less so.